April 2022-Our Month of Divine balancing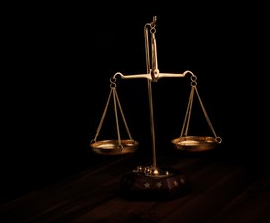 Negative situations contribute to your divine balancing.
Negative situations contribute to your divine balancing.
Joseph went through thirteen years of betrayal, slavery, false accusations, and imprisonment. He had reasons to become unhappy but he put up a good attitude. He understood the principle that everything he was experiencing was serving God's plan. After Joseph interpreted Pharaoh's dream and was made prime minister of Egypt, he even declared that the very harm his brothers meant for him was instrumental and necessary to getting him to the throne and his destiny of saving their lives.
Are you upset about what someone did to you ? Are tired of that situation? Are you about to give up?  Are you discouraged? Hey !!!! Do not be bothered about all that is happening around you. God's Divine balancing will be made manifest in your life.
God will use people who are against you to move you into your divine purpose in life. God uses the bad breaks, the delays, the setbacks, and the injustices to move you into your month of Divine balancing
The things you don't like, the things that are given you sleepless night, the things that have been of great concern to you, and the things that are taking longer than you thought, are working together to actualize God's plan for your life. What ever negative thing you experience now, have it in your mind that all things are working together for good as it's stated in Romans 8:28 " And we know that all things work together for good to them that love God, to them who are the called according to his purpose"
Your destiny is on the way to experiencing divine balancing as you stay connected with God.
EMPOWER PEOPLE
To empower people from all walks of life to develop their God-given potential with steadfastness and diligence
SERVE THE LORD
To fully develop their Gift and potential to serve the Lord and his people and to continually mature in the things of the spirit
TO ADVANCE GOD'S KINGDOM
To advance God's kingdom through the practical demonstration of His unconditional love through Jesus Christ
OUR VINE
Our vine Abode of Testimonies is a branch of The Redeemed Christian Church of God, which has a great vision to spread the gospel of Jesus Christ through the planting of many churches throughout the world. It is a bible believing church without geographical restriction. The church is emphasizing on its vision and mission
OUR BELEIF & FAITH
HEAVEN
To make heaven.
TO ACCOMPLISH NO 2 AND 3
To accomplish No 2 and 3 above, we will plant churches within five minutes walking distance in every cities and town of developing countries and within five minutes driving distance in every
city and town of developed countries.